Vegan Meatloaf. In a large skillet over medium heat, heat oil. Add onion, celery, carrot, and mushrooms and cook, stirring occasionally, until. A classic tasting Vegan Meatloaf made with a base of chickpeas that is SO simple to make.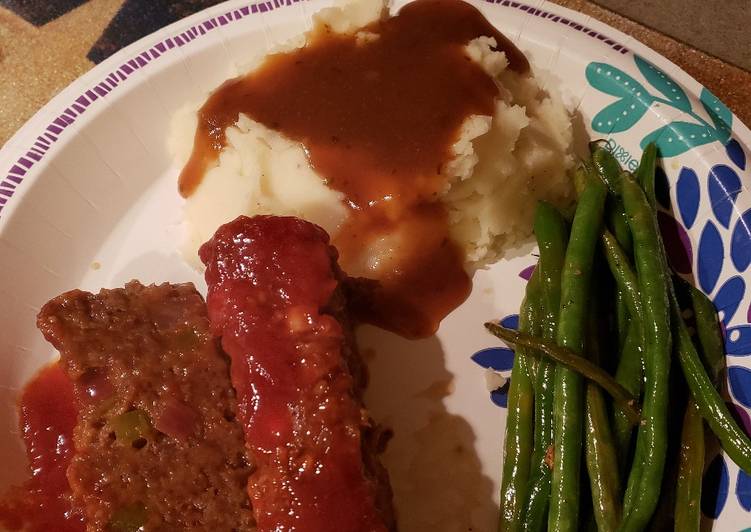 In the meantime make the tomato glaze. Combine all ingredients in a small bowl and whisk well. Vegetarian "meatloaf" makes a for an all-American comfort food for vegetarians. You can have Vegan Meatloaf using 12 ingredients and 7 steps. Here is how you cook that.
Ingredients of Vegan Meatloaf
Prepare 1 pkg of Beyond Beef.
You need 1/4 of Onion.
Prepare of Salt.
Prepare of Pepper.
Prepare 1 tsp of vegan Worcestershire sauce.
You need 1/2 pkg of McCormick meatloaf seasoning.
You need 1/4 of Bell pepper.
Prepare 2 of flax eggs.
It's 2/3 cup of Bread crumbs.
You need of Soy milk.
Prepare 1/4 of Ketchup.
You need 3 tbl of Brown sugar.
Most vegetarian meatloaf recipes use lentils, rice, nuts, or a combination of all three for a base, but this one is made from store-bought mock meat, making it extra-meaty for meat-lovers and for anyone with a lentil aversion or nut allergy. Red Lentils don't take long to cook at all and if they are overcooked and soggy it will make the meatloaf soggy. This vegan meatloaf is made from red lentils, mashed sweet potatoes, red quinoa, onions, and spinach. And the meatloaf is seasoned with cloves, parsley, thyme, salt, pepper, cumin, paprika, and chili powder!
Vegan Meatloaf step by step
Soak bread crumbs in soy milk.
Preheat oven to 350°f.
Chop onion and bell pepper.
In a bowl add beyond meat,spices, vegan Worcestershire sauce, flax egg, soaked bread crumbs, onion and bell pepper. Mix well.
Put mixture into loaf pan..
Mix brown sugar and ketchup. Pour onto loaf and put into the oven..
Bake for 30-45 mins..
It's topped off with a delicious vegan glaze made from ketchup, agave syrup, soy sauce, cumin, and a touch of hot sauce.. Tips For Making a Perfect Chickpea Vegan Meatloaf. Mix everything up in batches if needed. Please, please, please don't do it! Check out my shots above: the mixture is chunky!